Wah! Rahul bhai, welcome to 1980s. We knew it for a few decades and were just now realizing how much knowledge remains amidst our ordinary people. Globally the anti-science movement has just reached its peak and within the community of people too there is talk of the limits of 'expert' knowledge.

Your great-grand Dad, the great patriot that he was had this idea that perhaps there wasn't much relying on the 'experienced' ones and decided instead to invest and get the 'experts' to crack all poverty problems. He did give up in early 60s to concede perhaps might have made a mistake! But, too late.

Your Grand-ma has been very interested and has been consulting quite a few 'experts' for many years. Dad is yet to arrive in the scene, but, would bring his own set of 'experts' who will change the way this country is governed forever. You are now taking your first sure steps and getting to learn your alphabets...we wait your arrival in politics.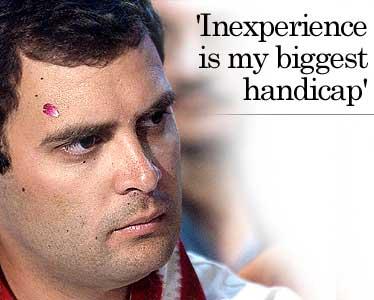 Espousing the cause of farmers, Congress MP Rahul Gandhi on Monday said the country needed to rely on their experience while formulating projects and schemes rather than depend on experts who are far from reality.
"There was a time in India when we used to consider knowledge as the most important thing. But nowadays what matters most is qualification," Gandhi said at a farmers' conference in New Delhi.
He cited an example from his constituency Amethi where some farmers had said that a certain project was not feasible which later turned out to be true after a survey was carried out. "The knowledge is still there. But it is not respected.
If some World Bank expert is behind it then we respect it as there are some big names are behind it," he said. Observing that knowledge is dynamic, he said it is constantly changing while qualifications are static, he said.
Reiterating the need to understand ground realities, the Gandhi family scion said, "if you are closer to people only then you are more answerable to them".